I am very glad to say that we had 3 new inches overnight here in frederic and I think things are going to pull thru to make it for another good weekend of riding. I had to broom off my whole truck last night when I left here. With the new snow that will be good but I just think you will have to watch for icy spots. There was a death yesterday up at the corner of west otsego lake drive and mancelona road. I have been meaning to write for a while but while I have had my death count estimate I have been informed that the dnr count is only at 6 so that is good but I thought for sure I was right on by my counts. So with yesterdays accident that makes 7. The man that died was from arizona and it was due to icy roads that he was hit by a truck. Also I posted on facebook last night about an area on the trail in newberry that is very dangerous and it has been very highly circulated, you can go to my fb pagehttps://www.facebook.com/pages/Sledheads-of-Frederic-Michigan-Snowmobiling/177033463181#!/pages/Sledheads-of-Frederic-Michigan-Snowmobiling/177033463181  to read but I am pasting the note I recieved from a reader yesterday next.-A man had hit a very poorly marked ditch in the middle of the trail, it sent him about 100 yards down the trail before he came to rest. From what i found out while on scene the mans name was Chris, and he had come from NY to ride, his helmet was split in two,  and out of respect for the family i wont go into details, but the man had very serious injuries.
Below is a scene of the ems, rescue sled and sheriffs, on scene preparing to transport
I am hoping you can help spread the word about this ditch, you don't see it until you are to close to slow down, and I have heard this was not the first accident caused by the ditch. The ditch is roughly 8-10 feet wide and 5-6 feet deep, and is located about 10 miles north west of Newberry on Trail 45.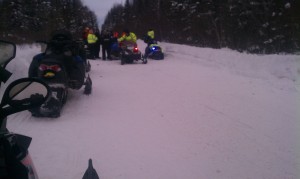 Also while I saw sleds in town first thing when I got into frederic yesterday the first sleds of the day didnt ride into here until about 4 and they were a large group from the Flying Tigers of Canton Ohio, they had rode from Marsh Ridge to gaylord and around to lovells and said they were having a great ride and it was nice that they stopped in to see me. Thats one thing that is very cool about being in here is all the people that read my ramblings and then come in to meet me as they are from everywhere……Also a big THANK YOU to Tom & Deb Rawlins who have been nice enough to bring me coneys 2 weekends in a row from Zeus Coney Island in Lansing….those definetly hit the spot. And then another bit THANK YOU to the people that met the Mountain Man the other day as they sent me a very large care package today of cleaning supplies. He said that was what he did for his business and he sent me a nice assortment of cleaning supplies. Alot of those will work well for cleaning our rental cottage. Thanks again to everyone….and PLEASE REMEMBER TO RIDE SAFELY…….and thanks for checking in. Pete